Signs of postpartum depression
Do you have signs of postpartum depression?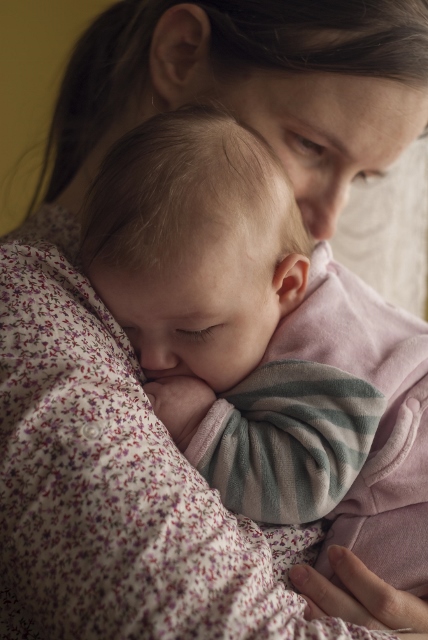 Women with signs of Postpartum depression struggle with some unique  symptoms.
Who am I?
Women may often feel a tremendous sense of loss of who they were  before the child was born or confusion about who they are now. Women with signs of postpartum depression have said they don't recognize themselves or no longer know who they were before.. (Maigun Edhborg, 2005) It is not uncommon for these women to say " I don't feel connected to my body, or I feel like I'm in a dream".
Many women with signs of postpartum depression also struggle with feelings of failure and guilt. They may struggle with completely redefining of the purpose of life. (Maigun Edhborg, 2005) What is the meaning of life? Why I am here when I am so sad and I just had a child, which should be one of the most fulfilling moments of my life? Will I ever experience happiness and where did I go wrong?
Guilt over Being a Bad Mother
The severity of signs of postpartum depression may severely impede a mother ability to parent their child. Research shows there can be detrimental effects for the child when the mother is suffering severe depression (Maigun Edhborg, 2005). Women who are depressed after giving birth often struggle with tremendous guilt over their depression and believe that it means they are a bad mother.
Feeling Uncertain that they are have the skills to be a mother
Women with signs of postpartum depression also described tremendous uncertainty and anxiety  about their ability to know what their child needs and perform basic functions a s a mother (Maigun Edhborg, 2005)
In postpartum depression these feelings contribute to the appearance of and fuel the existence of depressive symptoms. Just having these feelings does not mean that you have postpartum depression; actual symptoms of depression must be present.
Postpartum or Postnatal Depression is the most common mental illness experienced after pregnancy. Signs of postpartum depression include feelings of emptiness and confusion that may lead you to question your ability to be a good mother. You may have difficulty concentrating and performing tasks necessary to care for your child or fulfill your other responsibilities. You may feel a terrible sadness, in the place of the expected joy. This can cause a tremendous sense of guilt, a painful and paralyzing emotion.
Signs of post partum depression may also include anxiety. If you have Postpartum Depression you may be frightened to be near your baby because of all the uncomfortable feelings that arise. This may even cause you to avoid interactions with your child.
Other signs of postpartum depression include sleep and appetite disruption, and physical exhaustion and tiredness (beyond what would be expected for a new mother.) Some women often also report experiencing a lack of joy in previously enjoyed activities.
Different from the Baby Blues
Postpartum Depression is not just a few days or a week of sadness. Many women ( up to 50 percent of all new moms) experience the " baby blues" for several days immediately after child birth. Postpartum Depression is more debilitating and intense and lasts for months as opposed to days. It interferes with a woman's ability to care for and bond with their baby and in the performance of other necessary daily functions. It is a unique form of depression in that it can seriously affect two lives.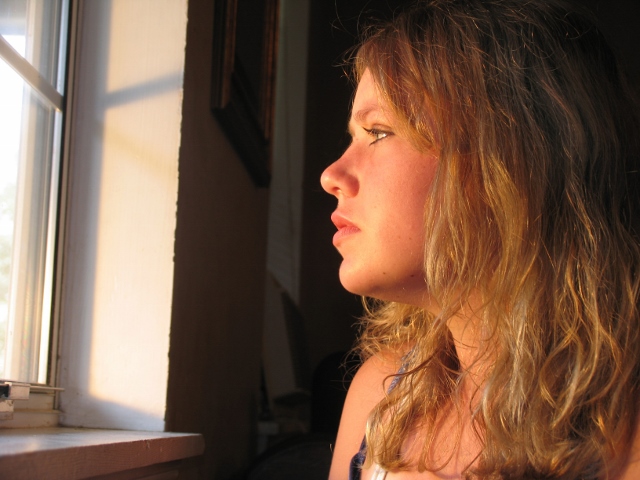 Women with signs of postpartum depression are stigmatized
Women who have Postpartum Depression have the additional stress of the stigma attached to being an unhappy mother. They may already think to themselves
"What's wrong with me? This should be the most wonderful experience of my life" Why am I sad? "
This causes guilt, shame and embarrassment that can prevent women from asking for the help they require. Often those closest to them, not understanding that they have an illness, echo those same sentiments.
If you have a history of any form of previous depression, you are more likely to develop postpartum depression. If you have limited social and family support, mixed feelings about the pregnancy itself, or are in a high conflict marriage you are also at risk. Please note if you have any of these signs of postpartum depression, please get help!
If you develop postpartum depression, it does not mean you are a bad mother or that you don't want or love your child! The depression causes the feelings and behavior, not your baby. If you experience these symptoms, you need help. Research shows there can be detrimental effects for the child when the mother is suffering severe depression.
Treatment
Your child deserves a healthy happy energized mom. Women who are experiencing Postpartum Depression, a medical illness, require treatment. Treatment focuses on your  body, mind, and spirit.
Rest
Physically you  need to have more sleep and rest. Relief from stressors that are  contributing to the depression is important . The responsibilities of motherhood are overwhelming to a mother who has postpartum depression. Family members and spouses need to pitch in to help with these responsibilities. Help with child care is often the number one thing that needed.
Therapy
If you are suffering from postpartum depression, you are likely to need therapy to assist them in combating their depression. It helps to talk with someone knowledgeable about this issue who will not judge or criticize you. It is also helpful for family members to understand that postpartum depression is an illness and not a choice, and it needs to be treated as such. A therapist can often provide psycho- education about this as well as signs ofpostpartum depression to important people in a woman's support system. It may be that antidepressants are needed to assist in alleviating the symptoms of the illness. All of the reasons for postpartum depression are not understood, however, we know that levels of hormones and neurotransmitters contribute to this depression. If you have postpartum depression, you should discuss medication options with your doctor.
Postpartum depression is an illness that often goes untreated and can create difficulty for both the baby and the mother in the future. If you have Postpartum Depression, you are not alone. Please reach out for some help. If you see signs of Postpartum Depression in someone you love , please encourage them to get help.
Abell, S. (2007). Postpartum depression. Clinical Pediatrics , 290-291.
Maigun Edhborg, M. F.-M. (2005). "Struggling with life": Narratives from women with signs of postpartum depression. Scand J Public Health , 261-267.
Mallikarjun, P. K. (2005). Prevention of postnatal depression. The Journal of the Royal Society for the Promotion of Health , 221-226.
American Psychiatric Association. (2000). Diagnostic and statistical manual of mental disorders, (4th ed., text revision). Washington, DC: American Psychiatric Association.
Jones, I. & Craddock, N. (2001) Familiality of the puerperal trigger in bipolar disorder: results of a family study. American Journal of Psychiatry, 158, 913 -917.

Medical information obtained from this website is not intended as a substitute for professional care. If you have or suspect you have a problem, you should consult a healthcare provider.